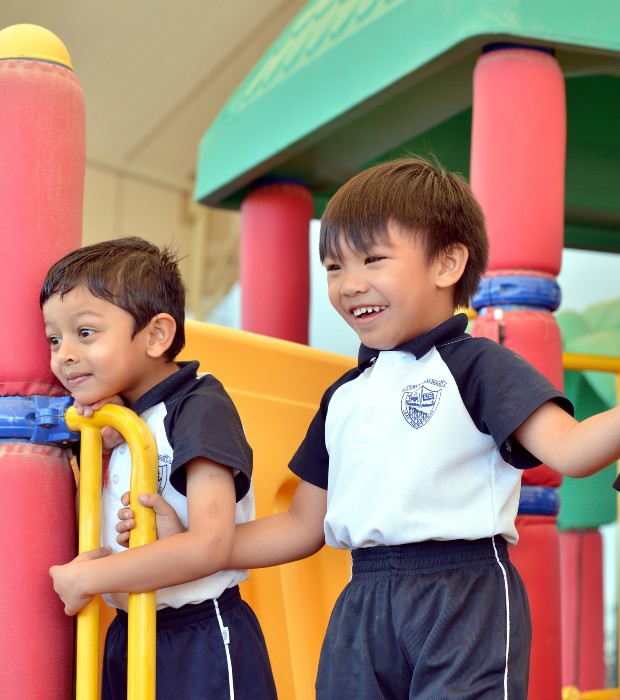 Extra-curricular Activities
Getting involved in activities outside of school can help students meet new people with whom they share interests and helps improve their social skills as a result. Extracurricular activities also help students expand their networks, which is beneficial for finding career opportunities after graduation. These include a wide range of interests, from sports to music, science to arts, and we involve the Student Council to generate ideas for the activities so that everybody has a chance to develop their passion.
These activities aim to develop and encourage student talents and interests, provide students the opportunity to extend their learning beyond the classroom, and foster active and global citizenship.
They run through most of the school year starting from April to March, although some activities are condensed due to the weather conditions. These activities offered by the school are conducted by a licensed school staff according to his/her expertise or practice. The majority of these activities are free of charge.
These activities will take place during and after school on weekdays. You will be advised at the beginning of the school year of the schedule of these activities and which activity is applicable to each grade level. These activities are subject to ADEK approval and comply with ADEK & OSH legislations.
Numerous Opportunities
Our Own English High school, Al Ain continues to offer challenges to the students through various intra and inter school activities and competitions, thereby molding them to be world citizens. Students are given the opportunity to participate in almost all inter-school competitions where they emerge victorious.
The school's enrichment program includes school extra-curricular activities (ECA), that take place during the day or after school on weekly basis. These activities provide opportunities for students to discover their talents and abilities, and to enable students to create and innovate. It is our objective to encourage balanced, holistic development in addition to a sense of healthy competition and team spirit. Students' life skills are also improved through helping them to develop balanced personalities together with physical fitness.
These activities encourage students to explore and develop their personalities, creativity and skills.
Closely linked with the afternoon sessions are games, support classes, sports and other physical education programs.
Enhance Learning (Math, English, Science)
Digital Technology (Robotics, Science / Math Club/ STEAM Activities)
Performing and Creative Arts (Art and Crafts, Music Club)
Leadership (Debating)
Sports - (Chess, Football, Basketball, Zumba)
Intra School Activities
Inter School Football Championship

This tournament promotes goodwill and harmony amongst pupils at the middle level, from many schools in Al Ain. Competition is fierce with a different school lifting the trophy each time.
More Activities
Creative Festival
Mathematics Olympiad
Annual Inter House Sports
Annual Community cum Charity event
Other exhibitions
The school has facilities, which fulfil general and basic needs in an environment that is safe, happy and comfortable for its students.
Showcasing Talents
In addition to Montage, we provide our students the platform to voice out their opinions and tackle major global issues through competitions such as Model United Nations, Inter-House Debates and Elocution competition. We encourage students to think innovatively and come up with brilliant and ingenious solutions to modern day problems through our Science and Social Science Symposiums along with our 'Project Based Learning' modules.
Academics and academic achievement is one of the cornerstones of OOL. We deliver a wide range of fun, exciting and challenging competitions and activities to our students such as the Math, Science and English Olympiads. In addition to this we also provide academic support classes for those students who need more support in academics.
To embrace one's identity is the key to become a global citizen in the 21st century. Therefore, we embolden our students to take pride in their identities through competitions and activities on events such as 'My Identity Day Celebrations' and 'Emirati Children's Day'.
Gallery of our Extra-curriculars