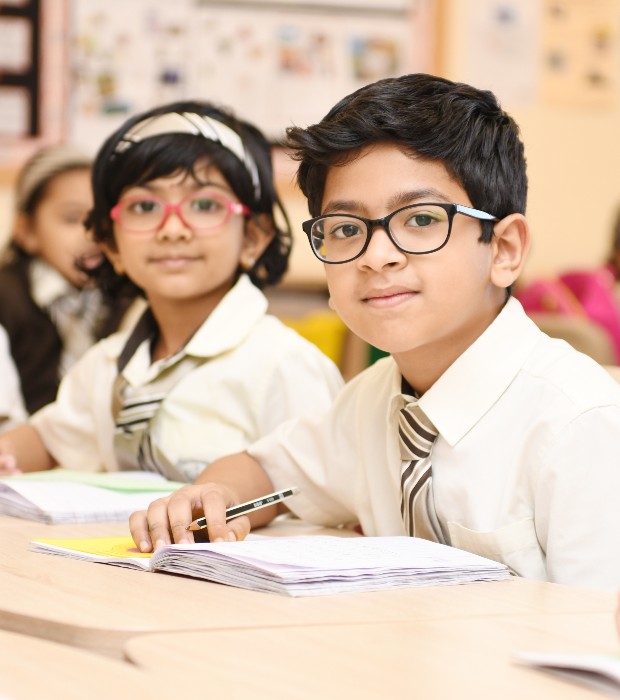 Primary School
Grades 1 to 4 - CBSE Curriculum
Welcome to the Primary Years at Our Own English High School - Al Ain
The Primary classes follow a comprehensive foundation course designed to suit children from diverse backgrounds. Special care is given to the teaching of English, particularly to the pupils who hail from non-English speaking backgrounds.
To improve the quality of learning at the Primary level, and our desire to bring international norms of evaluation into our educational practices, the school has extended the Continuous Assessment strategy right through to Grade 4. We hope to bring improvement in our pupils' learning and achievement in two related ways, i.e. reduce the stress of examination through the weekly assessment system so that it becomes part and parcel of the normal school routine; and raise standards of achievement by focusing attention on clear learning objectives and continuous remedial work.
The Primary School offers a wide range of co-curricular activities to ensure an all-round development of the child's personality.
At the primary level there is a greater emphasis on a development-based curriculum and students are taught the essential concepts of the various subjects. The focus is on the development of the positive attitudes and healthy habits among students.
Foundations in Reading, Creative Writing, Science and Mathematics are strengthened in a caring and stimulating environment, wherein the learning process is made positive and more meaningful.
Subjects at Primary School
English
Mathematics
General Science
Social Studies [Grade 1 to 5 Compulsory – UAE related]
Arabic [Compulsory]
Second Language [Hindi, French, Malayalam]
Islamic Studies [for Muslim Students Only]
Moral Science [for Non-Muslim students]
Moral Education
Art
Music
Physical Education
Unique Approaches to Learning
There has been a paradigm change in the educational approach of the school in the last four years, to equip our students with all the 21st century skills so as to prepare them for the challenges ahead and for life.
Since April 2019, the learning approach in the Primary has evolved from the conventional text book learning to a more blended e-learning approach with a judicious mix of hands on exploration and interactive learning through e-resources.

Multi Sensorial Activity Based Approach

A wide range of hands on, relevant, concrete, first-hand opportunities and multi-sensorial learning experiences are provided for all students to develop their Personal, Social, Emotional, Cultural, Spiritual, Physical, Language, Mathematical, Creative and Critical Thinking Skills in a diverse and intellectually stimulating environment. Being a Primary School, emphasis is laid on a balance of child led and teacher led activities to promote skill based learning. Activities that are free and structured, individual as well as collaborative form the basis of experiential learning at the Primary School level.

Inter-disciplinary Project Based Approach: STREAM

have been integrated within the Curriculum in 2019. Students are engaged in hands on LEGO and Robotics projects involving a seamless integration of elements of Science, Technology, Research, Engineering, Art and Math, all built into a life-worthy learning story. Students in Grades 1 – 5 build projects using LEGO which further develop their critical thinking, creative thinking and problem solving skills.

The aim at this stage is to expose the child to an exciting and wonderful world of learning. Children are encouraged to develop cognitive.

During this comprehensive period pupils' intellectual, aesthetic, physical and cultural growth and development is gradually intensified and extended through a foundation course designed to suit children from an international and multicultural background. Language skills (particularly those for the English language) are honed through the Communicative Approach while the problem-solving approach teaches pupils to search for solutions, rather than learn by rote, in other subjects.

Arabic is compulsory for all pupils whereas the optional languages offered are Hindi, French and Malayalam.

A significant feature at this level is the curriculum in Social Studies that is designed to meet the varying needs of Indian, International and Arab Nationals (the last category takes this subject in Arabic as required by the Ministry of Education) in these grades.