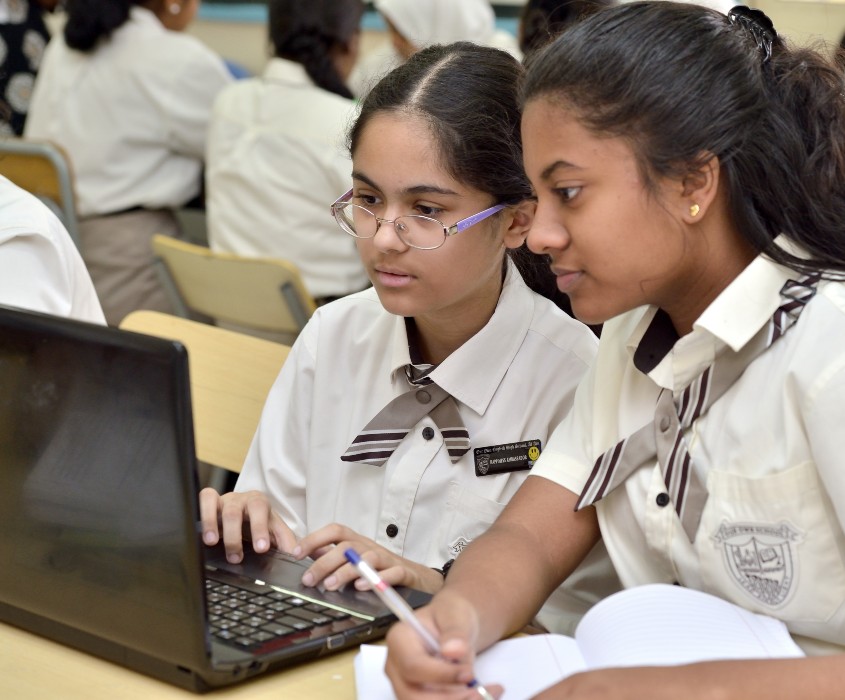 Innovation at OOL
In Our Own English High School Al Ain, the staff and students think differently, connect effectively, evolve creatively and use efficiently.
The school's Innovation plan is to introduce creative teaching methods and techniques, as well as designing and developing innovative curriculum that equip students with the 21st century skills and
knowledge, introduction and enrichment of Innovation skills and to further develop social responsibility at all levels. It is also expected to relate UAE identity and 'My identity' in all possible ways in the
teaching and learning process.
Innovation in OOL
Think differently,
Connect effectively,
Evolve creatively,
Use efficiently.
Innovation in OOEHS
GEMS X
Participation in GEMSX, A GEMS interschool innovation competition - generate technology-rich solutions addressing the world's most significant challenges.
Genius Hour
Projects/ topics based on Sustainable Development Goals (SDGs) - Students prepare prototypes in subjects and demonstrate the model with peers.
PBL – Project Based Learning
PBL is incorporated into the curriculum. In the Cambridge section – Each goal of SDG was assigned to a different grade.
Formula 1
Senior Student participate in Formula 1 car making competition - They design and create miniature car models, which compete with other cars in the circuit organized by Marina circuit.
Children International Film Festival
Children International Film Making - Both seniors and juniors write, direct and produce short movies and compete with other schools.
Robotics
Robotics are added into the curriculum - Robots are made by students at different levels and compete in Montage, the annual cultural festival. Robotics are going to be implemented till Primary level.
Awecademy
30 students including some 'G&T' completed 52 modules - online curriculum informed by neuroscience and brain education dealing with scientific literacy, cosmic citizenship, mindfulness and 21st century skills. The school is now working to provide 'Awecademy' to a larger number of students free of cost as an after school programme.
Innovation month
Feb is Fab was a full month of Innovation programmes conducted by different departments.
Montage
Annual cultural competition with a variety of events to compete. Events like Robotics, Film Kraft, Drama, Mad Ads, Painting, Singing, Dance, Fancy dress completion are held. Fashion designing using recycled material is one of the highlights.
STEAM Day – Trip to NASA
Organized to encourage non-traditional learning experiences for the students. Students visit NASA, USA for a hands on experience.
Spoken Word Poetry
Conceptualized, organized and executed by the girls of grade 9, the first 'Spoken Word Afternoon' brought to the forefront 17 young poetesses, some of whom were performing on stage for the first time. The girls' renderings revolved largely around themes of identity, self-worth, opportunity and what it means to be a young woman in the 21st century.
The Writing Process
In Cycle 1 and 2 to encourage the development of writing and vocabulary enrichment.
UAE Spelling Bee
In Cycle 1 and 2 to encourage the development of writing and vocabulary enrichment by participating in school level, national level and international level competitions.
World School's Debate
For seniors to develop speaking and critical thinking skills. The competition is conducted in both streams separately.
Innorite
Inter-school writing competition from among 15 participating schools conducted to enhance writing skills.
Digital house newsletter
Prefects from four houses design the digital newsletter using the software Microsoft Sway and then publish it online.
Learner Profile
Designed as an offshoot of data collected from PASS and internally designed surveys.
Student Display Board
QR Code and other innovative ideas are incorporated into new display boards.
Action Research
Teachers did an action research on positive behavior, which was aimed to find to what extent the introduction of PBIS impact the middle school students in academics and behavior.
Challenge reading
Participated in the best muezzin competition in Abu Dhabi.
Innovation Entrepreneurship Survey
By Hamdan Incubation Incubator – Aims at increasing innovative entrepreneurship and accelerating patent growth and registration.