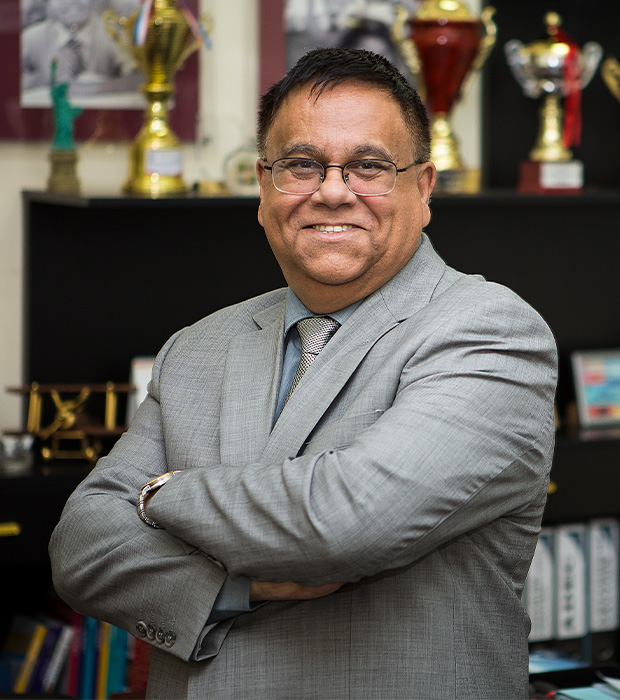 Rocky Miller
Principal/CEO

With over 40 years of experience in teaching and being the Principal at two schools in the UAE, namely Al Diyafah High School and currently Our Own English High School, Al Ain, Rocky Miller has taught diverse cultures across the Asian continent.
Miller taught at Mount Hermon School and St. Paul's School, both in Darjeeling; St. Thomas' School for Boys in Kolkata. He helped start a school for the underprivileged in Janakpurdham, Nepal and then taught at the Budhanilkantha School in Kathmandu, Nepal teaching English and Social Studies to the Crown Prince and his younger brother, along with other Nepalese students.
He did his schooling at St. James' School, Kolkata and then pursued a Trained Teacher's Certificate. He completed his MA in English and a Licentiate for Teaching English from Trinity College, London.
Miller is a Corporate Coach U Coaching clinic certified Facilitator and Coach. He believes coaching plays a pivotal role in encouraging his staff to perform better and this in turn benefits student learning.
He came to the UAE in 1989 and began his teaching at The Modern High School, Dubai. He then went on to become the Principal of Al Diyafah High School and after a stint of 6 years, returned to GEMS as Principal of Our Own English High School, Al Ain in 2006.
He has certainly etched a niche in the field of education through his creative thinking, theatre, and music and takes immense pride in enabling children to – think and act for themselves through their learning.